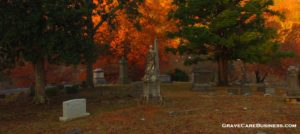 How To Make Money With A Grave Care Business
Are you passionate about cemeteries? Have you ever thought how neat it would be to start a Grave Care Business?
I've had a passion for cemeteries since childhood. It thrills me to derive an income following my love of cemeteries.
If this sounds great to you, why not take the steps to start your own business?
These 5 tips will help you on your way to starting your own Grave Care Business.
1) Assess the demand for grave care in your area.
To determine your local level of demand, take a quick look at the number of cemeteries in your area. You will find dozens (or hundreds) of cemeteries in your immediate area. You will find many types of cemeteries: private, managed care, family, churchyard, community & volunteer, and neglected & abandoned cemeteries.
They ALL require specialized care.
We will show you how to start your own Grave Care Business by providing: plot maintenance, grave flowers, grave stone cleaning, and more.
2) Check local competition for similar businesses.
Do a quick Google Search for Grave Care companies in your area. In most areas, there is little (or zero) competition. Even if there is someone else already doing grave care, there is plenty of opportunity for your company to do a better job.
3) Determine your "menu of services."
Grave plot maintenance, flower placement, and tombstone cleaning are the 'big 3' grave services. We show you these services plus many other services to offer your clients. Tombstone resetting, plot landscaping, message delivery, photography & videography, cemetery mapping, and many other services will be of interest to your clients.
4) Determine your need for licenses and permits.
Rules and regulations vary from one state to the next and from one cemetery to the next. It is particularly important to pay adherence to the local laws regulating cemeteries in your community.
5) Advertise your Grave Care Business.
Marketing for this business is unlike any other business. This is very personal for your clients. Your potential clients are sensitive about this and they don't want to feel like you are strictly advertising to make money off them. Sensitive advertising is vital to gaining and building a strong client list of satisfied clients who will trust your business and the services you provide.
---
Of course there is MUCH MORE to operating a Grave Care Business than just these 5 steps.
If you think this is a business you would like to start, please read through our website to learn more about us.
We have developed a professionally produced Grave Care Business Course designed to help you start and operate your own business.
Our Course Overview page shows you everything that is included in the business program.
If you have any questions, please let us know through our contact page.