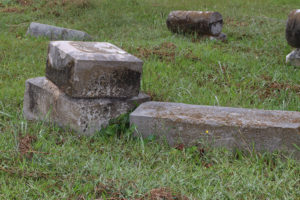 Gravestone Damage Caused By Lawn Mowers
When I visit a cemetery and look at gravestones, my biggest pet peeve is seeing damaging work performed by careless workers.
One of the most notoriously damaging pieces of equipment in a cemetery is the riding lawn mower. Particularly, large Zero-Turn-Radius lawn mowers operated by neglectful lawn mower operators cause extensive damage. In cemeteries during lawn mowing season, lawn mower operators are often in a big hurry to finish their mowing jobs. They speed between headstones and zoom up & down rows of grave markers. Their rubber tires grind the ground and their large mowing decks scalp the earth. More damaging than what they do to the ground, however, is the damaging effect they have on gravestones.
Here are two examples of damage caused by lawn mowers. In both of these instances, gravestone material has been scraped away by mower decks. In the third picture, I have reason to believe the monument might have been toppled after being run into, repeatedly, by a neglectful lawn care operator.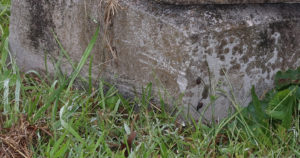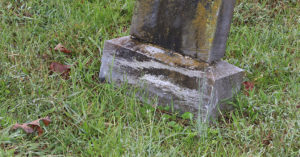 If you plan to offer grass cutting in your grave care business, please make the effort to choose proper equipment. Also, operate that equipment properly to avoid damaging tombstones and the graves you are supposed to be manicuring.
Do you need some professional tips on how to properly operate a Grave Care Business? Our professionally produced Grave Care Business Training Course will help you start (and operate) your own successful grave care business. We even include excellent information on how to avoid damaging gravestones when you are mowing cemetery grave plots.
Learn more about it on our main webpage. You can order the course directly through our website and we will ship it to you promptly.
Please let us know if you have any questions. We are passionate about cemeteries and are always happy to help.