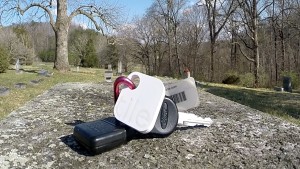 Neat device for your Grave Care Business.
Have you ever misplaced your keys? Recently, when I was working in a local cemetery, I misplaced my keys by leaving them on a tombstone. By the end of the day I had visited dozens of gravesites and my keys were nowhere to be seen. I had to retrace my steps through the cemetery.
There is a company called TILE that make a device to which you can attach your keys. The device uses the cell phone's Bluetooth and GPS capabilities to help you find your keys should you ever lose them. I have used TILE for a few weeks and I am very pleased with the results…..enough so that I wanted to share the technology with you. While I admit that the technology is not a PERFECT solution, tile is well worth the $25 they are charging for each device.
Below is an Amazon.com associate link where you can purchase your own TILE. If you use it with success, please let us know.
TILE is just one of the tools we use in our Grave Care Business. IF you have ever thought about starting your own grave care business, we have developed a course that will help you start, grow, and operate your own successful Grave Care Business. Check our main website via the link below: