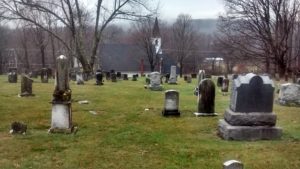 It's August 2016 and I've just come in from another beautiful day in a cemetery.
This summer has been one of the hottest on record. Though daily temperatures are still very warm, we are beginning to experience hints of cooler weather. Soon, the evenings will be brisk and autumn colors will beautify all the trees in our local cemeteries.
Since the heat and humidity of July is difficult to take, I try to perform much of my work in the morning and late evening hours. Once August arrives, the humidity begins to decrease and working outside is much more bearable. And, of course, September and cooler weather is just around the corner.
The next several months are perfect for grave care services. This is the perfect time to perform plot maintenance. Old, ugly grasses and weeds can be removed and the ground can be prepared for new seed which will green-up and put down roots during early Autumn. Tombstone cleaning is also in demand from customers this time of year. After a dry, dusty summer, grave stones are in dire need of good wash downs with proper cleaning procedures. Harsh chemicals are not needed. In fact, harsh chemicals can damage tombstone material. Harsh scrubbing can cause further damage to already fractured or fragile grave markers. I always try to take a "do no damage" approach to tombstone cleaning.
In addition to grave plot maintenance and tombstone cleaning, summertime floral decorations should be changed as we transition into the cooler months. Old flower decorations become faded and tacky looking. I always think it's a shame when I see old flowers on a grave site. Someone spent a lot of time and money to place flowers as an outpouring of respect and love. Flowers that were once beautiful eventually become worn and old and tacky. Autumn is a great time to replace old flowers with new decorations.
Each year, I think of Autumn as our reward for suffering through another hot summer. This is the time of year I, once again, love what I do. 🙂
If you've ever thought about the idea of operating your own Grave Care Business, I would like to invite you to read through our entire website. There is a lot of free information here to help you get started. However, if you are truly interested in learning how to start and operate your own successful Grave Care Business, we have developed the Grave Care Business Course. The material in this course is designed to take you from the initial concept of your idea all the way through performing the work correctly, building your client list, and growing your business to the point you might need to hire additional employees to keep up with the demand. You can keep it small or grow your business as large as you want.
We love cemeteries and are always happy to help you start your own Grave Care Business. If you have any questions about the course, please let us know. The rest of the website contains detailed information about everything that is included.
If you're ready to order, the "Full Course" is on sale for $250 + S&H. I will leave a payment link below.
Have a great autumn!