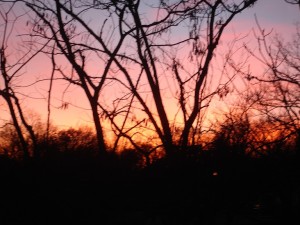 Sunset In The Cemetery – After a Most Peaceful Day's Work.
Today (January 5, 2015), the first work day of the new year, I found myself engulfed in projects I've been promising and goals I have wanted to accomplish since early December. Time passed seamlessly and before I knew the day was drawing to a close I looked up to see a most beautiful sunset.
The new year is a chance to refresh and renew and to set goals to accomplish.
In this new year, I know you have many goals of your own to accomplish. I would love to year your main goal. Is it to become more physically fit? Start eating right? Make more money? Find work you enjoy? Start your own business?
If you have read through this website, you have learned that we offer a professionally produced Grave Care Business Course. This course is designed to help you start and operate your own successful Grave Care Business. The course has recently been updated and it is a perfect way for you to start the new year.
If you love cemeteries and have ever though about start a business providing these services, this course is perfect for you. We monitor this site daily and we will ship your parcel as soon as we receive your order.
Grave Care Business – Three Course Levels
Please let us know if you have any questions. We are always happy to help.